Total Control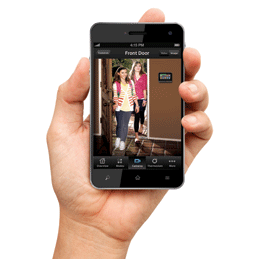 …From the pages of House & Home…
As home automation becomes more advanced, homeowners are taking notice.
Most of us could probably admit that we believed by the time 2014 rolled around, we'd all be living like the Jetsons. Zooming around in flying cars and having conversations with our robotic friends didn't seem so far-fetched when we hit 2000 and technology seemed to have grown leaps and bounds since the Jetsons first aired more than 40 years before. Though we haven't quite figured out flying cars yet, we are able to live like the Jetsons in many ways, especially inside our homes.
One particular advancement people have been taking advantage of is home automation, says Frank Purcell, senior marketing director for Comcast Cable. The opportunities are endless, he says, and more accessible than ever. "Futuristic technology that allows homeowners to control alarm systems, lighting, appliances, video cameras and temperature with a computer, smartphone or tablet has quickly moved from concept to mainstream," he says. "Solutions that let customers remotely manage and stay in touch with their homes are now becoming commonplace in today's digital home."
To many people, though home automation is intriguing, it also seems out of reach due to cost and the hassle of installation. Experts say people need to move beyond this misconception, though, and realize home automation can be a reality in any home. We spoke to the experts about what people need to know about automating your home, exactly what you can automate, and what the hottest trends in home automation are.
What can you automate?
Because home automation has become so all-encompassing, a better question might be: What can't you automate? Really the only factor limiting what you can and can't automate is the quality of the network or Internet connection you have in your home (if you want a fully integrated system), as well as your price point. Though, in all honesty, most experts say automating your home isn't as expensive as we all think it is, and some systems can actually save you money in the long run.
"Automation used to be a five-figure investment, but now you can get a decent automation system for under $2,000," says Jason Bobb, principle of SoundVision Consulting, LLC, based in Levittown, Pa. "There's a couple of ways you can go about it, too. You can do just lighting control, or you can do whole-house control, which includes thermostats, cameras and audio/video products as well."
Window shades are items in the home that Bobb says can also be automated, but homeowners often overlook. "Right now, everyone has blinds or curtains on their windows, but they don't realize the benefits of shades that are automated," he says. "They can have temperature sensors so that when the temperature rises, the shades lower, which can save a ton of money in cooling."
Dave Cerami of Hometech Renovations, Inc., out of Fort Washington, Pa., does point out that some home automation systems require hard wiring, and that older homes can often pose a problem for electronic, wireless systems. Now that families are opting to stay in their homes longer though, he says it is worth it to go the extra mile to equip your home with the products you truly want, instead of the ones that will just get you by. "Today, anyone could go to a home center and buy a programmable thermostat and a modest timer to turn the lights on and off," he says. "But that quantum leap can happen and the homeowner can get a truly 'smart' home almost as easily. If they're going to be staying in that home for 10 or more years and can couple the home automation with another significant improvement to the home, the system can be integrated."
Appliances, thermostats, shades and audio-visual equipment aside, Purcell says keyless door locks will soon be making their way into the mainstream market, offering people the convenience of getting into their homes without having to reach into their pockets for keys. "Keyless door locks that can be controlled remotely or let you lock the door with a wave of your hand and unlock with a digital keypad are coming soon," he says.
Why should you automate?
From cost savings to better security, proponents of home automation say if it can be done, why not do it? "The main advantages of home automation are two fold—convenience and peace of mind," says Jonathan Coords, vice president of sales at ESS Home Theater Showroom and More in Hillsborough, N.J. "Convenience is obvious, but peace of mind also comes because now you've got all these options available—thermostats, security systems and cameras—that you can control no matter where you are in the world. You can even take it one step further and put a smart outlet in your kitchen that you can plug your coffee maker into, so if you think you forgot to turn it off, you can turn that outlet off from wherever you are."
Cerami notes the reasons a homeowner may decide to automate parts of his or her home really depends on his or her lifestyle. "If they have a vacation home down the Shore, they can program exterior lights to come on at a certain time to make it look like someone is home," he says. "If they have young children or elderly parents, they can put a monitor in so they can keep an eye on their home from their desktop. They can also tie it into their personal entertainment system so they can listen to music in any room, for example."
The fact that we now have the ability to automate so much is what is intriguing to Bobb, who says, "There's really no bad way to go about automation. It's all pretty cool." He does note either renting or owning the automation hardware you install is something you will have to consider, and that varies depending on which company you decide to use to help you with the process. He says custom integrators, for example, generally offer permanent solutions, while larger providers rent their equipment.
What are the hottest trends?
While home automation itself could be considered a trend, the fact that the whole process can now be controlled via smartphone or tablet is one of the major draws, Coords says. "The iPad is what really opened up the home automation market to the masses," he says. "You don't have to buy expensive, ridiculous touch panels anymore to automate your home." Bobb agrees. "People want to be able to control and monitor things from their smartphone, so everyone is coming out with programs to be able to do that."
As the population ages, Cerami says more and more people are also looking into monitoring systems that will allow adult children to keep an eye on their parents throughout the day and night. "It's nice to know what they're doing," he says. "Of course, that means mom and dad would have to have some type of computer or wireless provider [to run the monitor through], but I think that's a trend you're going to see more of."
Whatever types of home automation systems you're looking into, Cerami adds it's probably a good idea to hire a professional to help you decide what's best for your home. "It can all get confusing," he says. "You can waste a lot of money on things you don't need, so it's always best to seek the advice of a certified design professional."
RESOURCES
Comcast Cable
Serving Pa. and N.J.
1 (800) COMCAST
Comcast.com/Home-Security
ESS Home Theater Showroom and More
Hillsborough, N.J.
(908) 904-0040
ESSHomeTheater.com
Hometech Renovations, Inc.
Fort Washington, Pa.
(215) 646-7477
HTRenovations.com
SoundVision Consulting, LLC
Levittown, Pa.
(215) 771-9648
SoundVisionConsulting.com
Published (and copyrighted) in House & Home, Volume 15, Issue 2 (August, 2014).
For more info on House & Home magazine, click here.
To subscribe to House & Home magazine, click here.
To advertise in House & Home magazine, call 610-272-3120.
Article continues below
---
advertisement


---
Author:
Amanda Hamm Hengel
Archives
---
This Old House
Moving Up
Light up the Night
Dining Alfresco
Sink or Swim
Throwing Shade
The Outdoors in Order
The Foundation
A New Spin on Swim
New and Improved
Wonderful Water
The Foundation: June, 2015
Color Me Happy
Decked Out
Ticking Clock
More Articles