The Wow Factor: Curb appeal at the Shore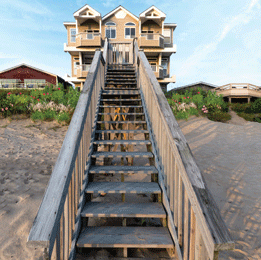 …From the pages of House & Home…
Curb appeal is just as important—if not more so—down the Shore as it is at home. Making the front of your beach home aesthetically pleasing not only boosts the value and makes it appealing to potential renters or future buyers, but it also makes the property more enjoyable for your own use.
"Your vacation home is a place to go and relax and enjoy your time off," says Chris Demato, owner of Rock Bottom Landscaping & Fencing. "It's important for it to be beautiful, but at the same time, require less attention in maintenance."
Hardier plants that require less watering are always the best choice for the salty air and sandy ground.
"When it comes to vacation or beach homes, nothing is more exciting than when you first pull into the driveway to start your vacation or your long weekend," adds Adam Parnes of Global Home Improvements, Inc. "That's why the exterior of your home is so important."
Because Shore homes are often rented or resold, the home's value is an important consideration when planning the exterior, experts say. "When designing a vacation spot, we definitely want to consider the value of the home and whether the overall landscape design will increase it," Demato says. "We want the homeowner to be able to get their investment back with a potential resale as most do tend to upgrade their homes as their families grow."
Simple & pleasing landscapes
Many Shore homeowners desire a landscape that is simple to maintain but still packs a lot of punch in terms of aesthetic appeal. They often don't want to break the bank with any elaborate design, since it's a second home. As a result, many Shore homes forgo a lot of turf and opt for small pebbles instead.
Ed Marinchak, owner of Create-A-Scape, Inc., says the installation of fabric and River Jack stones can definitely make a clean presentation that is both appealing and easy to maintain. In conjunction with the stones, some simple planting beds incorporating Hollywood Juniper and Shrub roses could add some color.
It's also so important that any selected plants for a Shore home are salt-tolerant. Hollywood Juniper, as well as most other varieties of Junipers work well in this climate, Marinchak says.
Demato adds that hardier plants that require less watering are always the best choice for the salty air and sandy ground. "Perennials such as daylilies, Liriope, Hydrangea, and ornamental grasses are definitely good choices," Demato says.
"Shrubs such as Junipers, Holly, and Burning Bush will also do well, along with Maples and Cherry trees as choices if looking to plant medium-sized trees." In addition, Mugo Pines, Black Pines, Cedars, Red Barberry and Hinoki are other plant options that can withstand the salty air.
Hardscaped elements are also another choice to boost curb appeal, while requiring no maintenance. Blending some hardscaped elements with some plantings is a nice combination that provides the best of both worlds, experts say.
Marinchak also suggests retaining walls for decorative charm. A neat and clean look can go a long way in boosting curb appeal. "Installing walls along the foundation also gives a nice look along with some seasonal color of flowers and some mulch in the beds," he says.
He also suggests sticking with smaller landscaped areas because of decreased maintenance, especially when it comes to watering. "While more elaborate irrigation should always be looked at if you have a new lawn or large areas of plantings, smaller beds and smaller lawn areas can be watered by a simple timer," Marinchak says.
Exterior elements
In addition to landscaping, the home's exterior appearance can also contribute to its curb appeal. "Not only do roofing, siding and windows protect your home from the elements, but they also add a visual appeal that contributes to both the enjoyment and the excitement that comes with owning a second home," Parnes says.
Using products which hold up to the elements is important when it comes to beach homes, Parnes says. But that doesn't mean it can't be attractive. "For us, we always try to combine functionality with fashion," he says. "That's why we install products such as metal roofing, Marvin Windows, and James Hardie Siding. These products add durability, longevity, wind resistance, low maintenance and, of course, beauty.
"When it comes to roofing and siding, we prefer Standing Seam Metal Roofing and James Hardie Fiber Cement Siding," Parnes says. "Our standing seam metal roofs are made of 100 percent aluminum and [are] guaranteed not to rust and warrantied against 140 mile-per-hour winds. And for siding, the extreme heat can cause vinyl to warp and wood siding requires constant painting and maintenance. But fiber cement offers the beauty of wood without any of the maintenance."
Selecting the right windows is another key consideration. Parnes says it's important that windows are designed to reflect sunlight and UV rays in order to keep the home cooler in the warm summer months. "You may also consider hurricane-proof glass that will not break when hit with flying debris from high winds or tropical storms," he adds.
Now is the time
As many of the beach communities are still in the midst of restoring their homes and their properties after Hurricane Sandy, now is a great time to go to work on enhancing the curb appeal of your own exterior.
Making sure your Shore home looks great is just another way to show your Jersey pride, Demato says.
"In support of New Jersey's 'Restore the Shore' campaign, I can't think of a better reason to put a little more effort into beautifying a Shore property that has given families so many long-lasting memories."
RESOURCES
Create-A-Scape, Inc.
Cherry Hill, N.J.
(856) 547-4276
CreateAScape.com
Global Home Improvement, Inc.
Feasterville, Pa.
Morristown, N.J. (showroom)
(877) 711-9850
GlobalHomeInc.com
Rock Bottom Landscaping & Fencing
Middlesex/Somerset counties, N.J.
(732) 873-6780
RockBottomLandscaping.net
Published (and copyrighted) in House & Home, Volume 15, Issue 2 (August, 2014).
For more info on House & Home magazine, click here.
To subscribe to House & Home magazine, click here.
To advertise in House & Home magazine, call 610-272-3120.
Article continues below
---
advertisement


---
Author:
Lindsey Getz
Archives
---
This Old House
Moving Up
Light up the Night
Dining Alfresco
Sink or Swim
Throwing Shade
The Outdoors in Order
The Foundation
A New Spin on Swim
New and Improved
Wonderful Water
The Foundation: June, 2015
Color Me Happy
Decked Out
Ticking Clock
More Articles