Space Transformation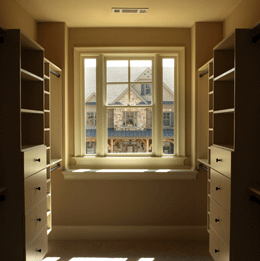 …From the pages of House & Home…
Turning your cluttered closet into an efficient storage space
We humans have a lot of stuff. Clothes, tools, books and papers, toys, technology, memorabilia—whatever it is, it plays a role in our lives. We need it, we use it—or we simply want to keep it— and we want it all within reach. So when it comes to storing these items, we need a functional space that's protected and provides easy access. Fortunately, now's a good time for closets.
"Life is simpler when there is a place for everything and everything is in its place," says Teri Fisher, owner/designer of Closet Gallery of Medford, N.J. "[You have to] take advantage of all the space in your closet. A typical closet has potential for more storage and organization. [And] every closet is different, because every person's wants and needs differ."
Having a functional closet space can make or break your mornings, some say. "[A functional closet system] means you start every day in a calm and relaxing way," says Shiva Nili, vice president of California Closets. Nili says that the way we use these spaces makes a big difference. "By changing the way they are set, you know where that blue shirt and white shoes are. The earring that has been lost in a cookie box full of custom jewelry, will be in your sight every time you open your jewelry drawer."
A successful closet transformation means relieving stress, as well as saving time, says Mandi Focht, of Closet Factory of Eastern Pennsylvania, a family-owned and operated company. "We spend time each day looking for items that are misplaced or we simply cannot remember where we have put them. However, with an organized transformed closet space, the time we take looking for items can be spent with family or just taking time for ourselves."
Jennifer Trevithick, director of client relations and marketing for Closets by Design, agrees. "Closets can be a time machine. [Functional ones allow you to] quickly and more easily select and accessorize your wardrobe, giving you back minutes a day that quickly add up to hours of saved time."
Hidden potential
When you redo your closets, what might surprise you is how much space you really have —and the tricks of the trade that'll get you more. This might include utilizing vertical storage, often lacking in a standard closet, or incorporating hampers and drawers so that everything you need to dress is in one location, says Fisher.
"[People] usually overlook the extra space they would gain by redoing their closets. There is a lot of wasted space in closets because the standard closet does not utilize all the available height," says Nili. She also suggests thinking about what's bothering you about your storage. "Is your closet messy and cluttered? Maybe it's time for a custom bedroom closet that keeps everything in its place."
Maximizing your closet's potential means thinking differently, says Focht. Floor-based systems allow for adjusting shelving and hanging rods to fit the customer's needs from year to year and season to season, she says. Making your closet an artful element of your home is another example. "Closets can be designed with more open wall spaces as well as framed areas in which art or other interesting pieces can be displayed. The artful elements change your closet space from just an area to get dressed into a space to relax," she says.
But first, take a good long look at your current closet to decide your needs, says George Robert Platt, who's been an owner, designer, and builder at GRP Handcrafted Furniture, Inc., for 14 years. Platt asks, "Do you have wardrobes? Are your clothes open or in drawers? Are your shoes organized? Do you want spaces with hanging clothes?"
Not that making the perfect closet is always easy. "We had a female client who needed storage for her extensive collection of 1,200 pairs of shoes—many of which were Manolo Blahnik heels, Lanvin flats, red crystal-studded Chanel stunners and a whopping 700 pairs of Christian Louboutins, her favorite label of all time," says Trevithick.
"We have had plenty of unique or over-the-top requests over the past 14 years," says Focht, whose clients have wanted to display collections of everything from watches and pens to model cars. "[We've also had] clients asking for us to hide safes and have even hidden entrances to safe rooms," she says.
Closet tips
Experts have many suggestions when it comes to rethinking your closet space. "My personal favorite is the reversed hanger trick. Go through your closet and reverse the direction of all of your hangers so they are opposite of how you normally hang.
As you pull clothes out and wear them, re-hang them your normal way. At the end of every year, donate the clothes that you never took out. This is a great way to weed out the clothes that you aren't wearing that are taking up space in your closet and to give back," Trevithick says.
"If you think about how much your home costs per square foot, then apply that to your closet," says Nili. "For example, at $100 per square foot, you are looking at valuable real estate. Only the most valuable clothing items, ones that you love and that love you back, should remain. Get a friend and start pruning. There's a lucky someone out there ready to love those discards that you don't wear anymore," she says.
She also suggests layering, shelf dividers to curtail floppy handbags, bins and baskets to corral scarves, and inserts to contain and separate items. In addition, she says to use the turn of the seasons to remind you of what you have and what you don't. "Ten pairs of flip-flops are not the best use of space if it's 20 below and snowing where you live. Make sure that you have basics for every season and then part with the unneeded extras or duplicates," she says.
"Use a lot of double hanging and go as far up to the ceiling as possible," adds Focht. "A cramped space can still be functional." She also suggests adding a little character to the space, such as using a lighter paint or wood grain color, as well as decorative elements including molding or glass inserts. "A space that feels lighter will feel less cramped," she says.
"Consider short stacking to double the space in your closet, or double hanging for people who don't have a lot of long clothing," says Platt. If the room is big enough, consider an organization island for socks, scarves, ties and jewelry, with little dividers in the drawers to keep things neat. Maybe even add a full dressing room in the closet or put multiple cabinets on one open wall. If you have a narrow wall, use it by incorporating different organizational hardware, he says. "The point is to make the most use of 'unusable' space," he says.
Nili touts the life-changing aspects of a good closet.
"Better storage—especially custom closets—increases your home's value and makes your life more organized and less stressful."
Published (and copyrighted) in House & Home, Volume 15, Issue 2 (August, 2014).
For more info on House & Home magazine, click here.
To subscribe to House & Home magazine, click here.
To advertise in House & Home magazine, call 610-272-3120.
Article continues below
---
advertisement


---
Author:
Daniel Sean Kaye
Archives
---
This Old House
Moving Up
Light up the Night
Dining Alfresco
Sink or Swim
Throwing Shade
The Outdoors in Order
The Foundation
A New Spin on Swim
New and Improved
Wonderful Water
The Foundation: June, 2015
Color Me Happy
Decked Out
Ticking Clock
More Articles