Gorgeous Garages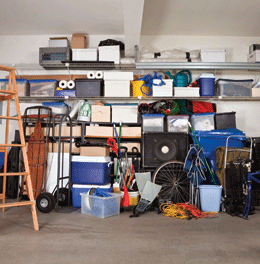 …From the pages of House & Home…
Transform this dull and cluttered space into something bright and functional.
It started so innocently: you bought your child that fun, red-yellow-and-blue plastic car.
Then your little darlings started riding tricycles, then bicycles, then skateboards. Then Grandma bought them an electric ride-in car. Then they began the soccer-hockey-baseball-lacrosse shuffle, and sports gear seemed to multiply overnight. Next thing you knew, you could no longer fit your car in the garage.
It's a universal problem. Homeowners everywhere seem to struggle to keep their garage space neat and useable. For many young families, sports gear, yard tools, bikes and toys overwhelm their space, no matter if their garage is a single-car area or a larger space designed to house two cars and ample amounts of gear.
"People with children go through stages—from the time your children are born to age 7 or 8, you're in Plastic Land," says Paul Greskovich, president and owner of Garage Craft Interiors in Warminster, Pa. "There's not too much to be done with that stuff; you just have to get through the phase."
It's the next few years when many homeowners become frustrated with the state of their garages and seek organizational help, he says. The building boom of the early 2000s featured many two or three-car garages, designed to function as a second entrance to the home. When clutter takes over, the garage becomes less functional—and less attractive.
"If the rest of your home and property is gorgeous, then a terrible, cluttered garage eventually becomes unacceptable," says Steve Chaloult, owner of Floorguard.
Getting started
If you're really ready to take back your garage, before turning to a professional, it's a good idea to assess your "stuff" and get rid of whatever you can.
"Going through your things and getting rid of some clutter is a great place to start," says Matt Shepinski, account development specialist with Closet City in Montgomeryville, Pa. He notes that paring down clutter is a primary step to take when organizing anything, from desk drawers to a tool shed or garage.
"We encourage our clients to make judgments about the things they don't really use," says Joe Fay, an owner of Encore Garage in Farmingdale, N.J. "Most of us need to learn to let some things go."
When beginning a project, professionals from local garage organization companies work with their clients to help them evaluate how they would like to use their garage space, and how their family's lifestyle affects the way they use their space.
For example, Fay says he interviews new clients to learn their children's ages and activities.
Prices for a professional garage overhaul vary widely, depending on the size of the garage, and whether your project involves simple cleaning and reorganization, or installation of a complex organizational system. A consultation and a simple reorganization might cost a few hundred dollars; new wall and floor surfaces might send your project well over $5,000.
Local garage professionals say their most typical customers have two- or three-car garages attached to homes built within the past decade or two. However, there's no minimum project size, and in fact, smaller garages may benefit more than larger ones from a professional overhaul.
"To utilize a smaller space for vehicle parking, and to get the most benefit for your day-to-day life, it's got to be pretty organized," Chaloult says.
Raise it up
Some garage companies sell proprietary storage and organizational tools; others create the plans using materials available at any hardware store or big-box retailer. For example, GarageTek, a large provider of storage and organization systems, has a patented wall surface called Tek Panel, which works with the numerous bins, baskets and cabinets that the company installs.
Floorguard has their own wall system called Mighty Wall, which features grooved panels that are easy to customize. Installers configure the wall products in different ways, depending on the wishes and the budget of the client.
Once your wall space has been organized and maximized, you may still have some things you'd like to get out of the way. So, look up.
"Many people also benefit from ceiling storage," says Nancy Catalano of GarageTek. "We offer overhead storage racks that hang from the ceiling, as well as hoists for bikes, canoes, Thule units, kayaks or anything that the homeowner needs stored off the floor and out of the way."
Greskovich's company installs overhead storage systems that can be raised and lowered on cranks, a feature that he says can boost safety, since homeowners don't need to climb ladders to access the items.
On the floor
Once your garage is neat and tidy, with goods sorted into cabinets and organized on shelves, it may be a good idea to install a proper floor. Nearly every garage floor begins as a simple concrete slab. Garage designers can improve the look and the functionality of your garage floor, while making it easier to clean and maintain.
"Take a look at the winter we just had," says Chaloult. "All the salt from the roads and mud from the melting snow gets tracked into your garage, and then your house. Salt doesn't get along with concrete very well." Frequent exposure to salt may cause the concrete to degrade, he says.
One of the most commonly used materials for garage floors is epoxy, a nonporous material that is easy to wipe clean. Fay, of Encore Garage, says a PVC tile floor is another popular way to upgrade the garage space. A simple coating will improve the functionality, but if you are seeking a more attractive garage, a more decorative finish can add a pop of color or pattern.
"The products have become really attractive and can transform the look of the garage," Chaloult says.
Using the space creatively
Once you've achieved a great-looking garage, you may begin to reconsider how to use the space. Fay and Greskovich say they have worked with homeowners who used their redesigned garages to showcase collectible cars. Others turned parts of their garage into workshops and crafting spaces, complete with shelves and cupboards to hold and conceal all the necessary supplies.
Some customers set up gym equipment in their gussied-up garage space, and Fay says one of his clients had him install cabinets with glass doors, in which he displayed his children's numerous sports trophies. Catalano says GarageTek has created an indoor basketball court for one client, complete with a hoop mounted on the wall. For another client, they created a "man cave," complete with a sofa, bar, TV, workbench and tool organizer.
So take a look at your garage. Whether you want to turn it into a brand-new venue for your hobbies or collectibles, or simply restore it to a neat and useable space, these professionals can lend a hand.
RESOURCES
Borrelli Construction
Media, Pa.
(484) 947-9597
BorrelliConstructionCo.com
Closet City
Montgomeryville, Pa.
(215) 855-4400
ClosetCity.com
Encore Garage
Farmingdale, N.J.
(732) 409-7707
EncoreGarageNewJersey.com
Floorguard
Serving southeastern Pennsylvania, Delaware and New Jersey
(888) 836-4698
Floorguard.com
GarageTek
Locations throughout the East Coast
(866) 664-2724
GarageTek of Philadelphia
(877) 388-0761
GarageTek.com
Garage Craft Interiors
Warminster, Pa.
(800) 997-9769
GarageCraftInteriors.com
Published (and copyrighted) in House & Home, Volume 15, Issue 2 (August, 2014).
For more info on House & Home magazine, click here.
To subscribe to House & Home magazine, click here.
To advertise in House & Home magazine, call 610-272-3120.
Article continues below
---
advertisement


---
Author:
Eileen Glanton Loftus
Archives
---
This Old House
Moving Up
Light up the Night
Dining Alfresco
Sink or Swim
Throwing Shade
The Outdoors in Order
The Foundation
A New Spin on Swim
New and Improved
Wonderful Water
The Foundation: June, 2015
Color Me Happy
Decked Out
Ticking Clock
More Articles