Learning to Rebuild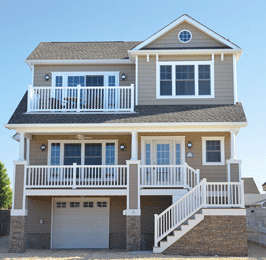 …From the pages of House & Home…
Changes in New Jersey construction requirements abound following Hurricane Sandy.
Residents of New Jersey learned a number of lessons after Hurricane Sandy ripped through the state in 2012. From how to better prepare for such emergencies to the importance of community support when another powerful storm hits the Jersey Shore, the people of the Garden State will be better prepared and ready to fight back.
But another arena that has seen vast changes since 2012 is home construction. Several laws and codes have changed, with one of the major new policies to be implemented requiring builders and homeowners to increase the elevation of homes, sometimes by 3 to 6 feet.
"When changes are made to laws governing properties in the wake of a major storm or natural disaster, the main goal is to be proactive rather than reactive," says Lew Merryfield, owner of Merryfield Construction Group, LLC, a third-generation, family-owned general contracting company in Runnemede, N.J. "We weren't prepared for a storm like Hurricane Sandy and that definitely added to the widespread damage. With the right changes, the potential for damage drastically decreases."
Thanks to changes in flood zones, some homes that were not previously required to be elevated now are. Though this may present construction obstacles for some homeowners, Tom Fitzgerald, principal of Disaster Restoration Design Services in High Bridge, N.J., a firm specializing in reconstruction, says the changes are worth it in the long run. "While wind and other types of damage were significant from Sandy, flooding was the major contributor to most of the destruction that took place," he says.
"The changes are critical not only for the safety of the homeowners, but for the longevity of the beach communities," he continues. "Another storm like Sandy soon after could paralyze communities who are rebuilding without the new regulations and construction methodologies. While we cannot stop storms from happening, it's tragic to lose a home once, but to not learn from that, and rebuild the same way, would be more tragic. It will also be helpful to the insurance industry and to help stabilize insurance rates. Every time a storm with such devastation occurs, insurance rates go up. If we minimize damage from storms, there will be fewer claims."
Jason Fertakos, vice president of Garden State Modular Homes in Lavallette, N.J., a custom modular home builder specializing in premium coastal homes, adds that such changes are meant to not only protect a homeowner's residence, but also their neighbors.
"The rules that are in place to protect your home also protect your neighbors' properties," he says. "As we saw after Sandy, lower, non-compliant homes can become projectiles and damage homes that were built to withstand severe weather events. Further, the fact that there have been some changes will (hopefully) encourage builders to pay more attention to regulations that have already been in effect and refine their connection techniques to make new work stronger."
While state regulations are requiring homeowners and builders to make changes, Fertakos notes customer desires have also changed. "Before the storm, many of our clients wanted to build very low in order to reduce steps into their retirement home," he says. "This desire is mostly gone, though we do a lot of creative work with staircases to reduce the aesthetic and physical burden of tall staircases. Now, most clients want to build higher than necessary because of a fear of loss of the home, the hope for lower insurance premiums, and more commonly, to utilize space under the house for parking or open patio areas."
In spite of all the changes the state has implemented, as Fitzgerald says, "there are no guarantees with Mother Nature. The best we can do is learn from the past, and improve on the future."
In addition to making sure your home is up to code, Merryfield suggests using materials that can stand up to harsh weather, such as stucco and cement—rather than siding— on your home's exterior. The roof's materials are also important, he says.
"Look for roofing options with a longer lifetime warranty," he says. "A higher grade of wind-resistant shingles will give you better protection from windstorms, etc."
Dawn Samuels, office manager of Outdoor Showers in Manahawkin, N.J., which designs outdoor shower enclosures, also points out it's not just homes that have seen upgrades to be more hurricane-resistant. "Everything we do now regarding our outdoor showers is focused around how to make them better so people don't lose them in storms," she says. "We use 6-inch by 6-inch pressure-treated wood dug into the ground, and we install the shower on that, so it help keeps it grounded so that it's not going anywhere."
While having to build, or rebuild, your home within precise diameters and with storms in mind may make you feel like you are forgoing creativity, Fertakos says that is far from the truth. "Higher elevation homes have opened up a whole world of design," he says. "There are some truly awesome things you can do with patios under the house, louver surrounds, screening and stonework. The most common—and cost-effective—decorations we install are exterior finish transitions and changes from the ground to the first level of the house. Composite or aluminum bands, color changes and low siding can drastically change the look of a house on piles."
And in terms of new construction, many of the changes the state is now enforcing have already been implemented, Merryfield says. It's the existing properties that are going to take some time, but he says "there are timelines in place for some areas that will expedite the process."
With the breadth of destruction caused by Hurricane Sandy, and thus, the amount of rebuilding that is required, time is a double-edged sword. People need the time to get the money together to rebuild, but they also need to get into new homes as quickly as possible. "Building departments are inundated with inspections, and some homeowners and builders are looking for ways to save costs," Fitzgerald says. "Implementing the codes to build a stronger home undoubtedly will increase construction costs. But the increase is insignificant to the cost of having to rebuild … again."
RESOURCES
Disaster Restoration Design Services
A division of Fitzgerald Architecture Studio, LLC
High Bridge, N.J.
(908) 639-4848
FAS-DRS.com
Garden State Modular Homes
Lavallette, N.J.
(732) 854-1985
GardenStateModular.com
Merryfield Construction Group, LLC
Runnemede, N.J.
(888) 612-5450
MerryfieldCG.com
Outdoor Showers
Manahawkin, N.J.
(888) 545-9763
ToddPod.com
Published (and copyrighted) in House & Home, Volume 15, Issue 2 (August, 2014).
For more info on House & Home magazine, click here.
To subscribe to House & Home magazine, click here.
To advertise in House & Home magazine, call 610-272-3120.
Article continues below
---
advertisement


---
Author:
Amanda Hamm Hengel
Archives
---
This Old House
Moving Up
Vacation at Home
Glamorous Grilling
Increasing Curb Appeal
An Infinite Palette
Home & Garden: Garage Envy
Home & Garden
Home & Garden
Home & Garden: Backsplash
Healthy Through the Heat
Inside Out
Popular Paving
Home & Garden: Ahead of the Curve
The Outdoor Tour
More Articles