The Foundation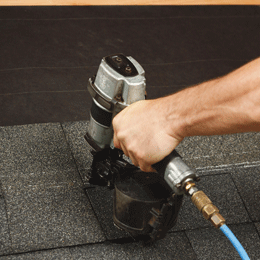 …From the pages of House & Home…
Educational Elements: Raise the Roof
With winter fast approaching, now is the time to ensure your roof is in perfect working condition before winter's harsh weather—and inevitable precipitation—rolls in. The National Roofing Contractors Association suggests inspecting your roof twice a year, in both the spring and fall, to catch any potential problems early.
When cleaning out gutters, the organization says homeowners should ensure the ladder is on level ground, secure the ladder at the top, inspect the ladder for damage, always use both hands when climbing the ladder, and extend the ladder at least 3 feet beyond the gutter, angled back 1 foot from the structure for every 4 feet in height. They also advise that once up on the ladder, homeowners should be on the lookout for shingles that are buckling, blistering or curling, loose material or wear around chimneys, pipes or other penetrations, or extra shingle granules in gutters, which create unnecessary weight.
And if you decide to bag the whole thing and call in a professional, NRCA recommends checking a potential contractor's permanent place of business, tax identification and phone number, as well as references and proof of insurance before hiring.
Green Thumb
What's growing on us this month … Fall Planting
We spoke to some local landscaping experts on just what to plant come fall.
• Fall blooming witch hazel: These unique shrubs bloom just when everything else seems to be done for the season, and display vibrant, fall-hued shades of orange, red and gold. Witch hazel does best in full sun and moist, well-drained soil.
• Red twigged dogwood: This shrub's fiery red stems will add color and interest to your lawn long after the last leaves fall. Growing up to 8 feet tall, they bloom white in the summer, but it can be argued that this is one plant that is better sans leaves. It does well in medium to wet soil.
• Chrysanthemum: A classic fall favorite, these textured blooms will give you the vibrant fall hues you're looking for, as they are available in a variety of colors: bronze, yellow, orange, red, pink, white and red. They grow well in both beds and pots, and flourish in at least six hours of sun per day in well-drained soil.
• Pansies: While most gardeners think to plant these spring favorites in the warmer months, they can also be planted when the leaves begin to change. Plant them in the fall, and in the spring, they'll emerge once again, making them two for the price of one.
Simplify
Tips & products to declutter and de-stress: Laundry
Looking to make that growing pile of laundry shrink with minimal effort? Try Crate and Barrel's Laundry Butler. This laundromat-style rolling cart provides everything you need when sorting, folding and distributing laundry to various rooms within the home. The hanging bar is perfect for freshly laundered shirts and dresses, while the chrome basket is the perfect holding place for linens, socks and odds and ends. There's even a shelf on the bottom to store your favorite detergent, fabric softener and bleach. While it's not the same as having a real butler, it comes pretty close. 25.25 inches wide, 20.75 inches deep, 70.5 inches high. Available for $139.95 at CrateandBarrel.com.
Covet
Must-have products for the home: Adorne Pop-Out Outlet
Tired of arranging furniture around an unsightly outlet, or wrestling with safety covers for outlets to keep little fingers at bay? Enter Legrand's adorne Pop-Out Outlet, the perfect, modern take on one of life's necessary annoyances—exposed outlets. Once installed, all you need to do to use your favorite electronic devices is simply push on the box, which instantly pops out these ingenious little outlets—each of which have a three-plug capacity. Then, when you're done, simply pop the outlet back into the wall—and it lies nearly completely flush with the wall. What's even better? Easy installation lets you replace existing outlets with the adorne in a matter of minutes, and no new wires are required for most installations. Available in classic white and magnesium finishes, $45.98 at Legrand.us
Who Knew?
Unusual uses for common products: Dish Detergent
It's great at cutting through food grease, but it has plenty of other handy uses around the home. • Kill weeds: Use 1 teaspoon of dishwashing liquid with 1 cup salt and 1 gallon white vinegar. Pour or spray solution on those stubborn weeds on sidewalks or pavers.
• Clean your blender: Fill it halfway with warm water and dishwashing detergent, cover and turn on. Empty, rinse, and let air dry—and finally enjoy a perfectly clean blender.
• Get rid of stubborn bathroom stains: Combine ¼ cup of powdered detergent with enough water to create a paste, apply to stain, let sit for 20 minutes, rinse—and voila! Stains are gone.
Kids Corner
Liven up the little spaces: The Great Indoors Sleeping Bag
Mother Nature doesn't always respect your plans. Instead of canceling your family's camping trip if a storm comes through, bring the campsite inside with the Great Indoors Sleeping Bag. Embroidered with your very own campfire design, this cozy sleeping bag comes with a matching pillowcase and an option for free name personalization. Finally, children can get the camping experience they've been dreaming of—without the bug bites and unpredictable weather. LandOfNod.com, $89
Bookmark
Add this to your bookshelf: Superlight: Rethinking How Our Homes Impact the Earth
Author Phyllis Richardson highlights the philosophies of architects such as Glenn Murcutt, promoting the belief that homes should have a minimal impact on the environment, visually and ecologically and in terms of materials used. Presented through photographs, plans and in-depth descriptions, the author of the successful XS series and Nano House outlines 40 innovative houses in her latest effort. (Metropolis Books, Oct. 2014, $38.)
Home Front: Keeping Time
Knowing the time is an essential daily activity—and out of this necessity, we've selected five clocks in various styles, from agrarian to classic to modern, to fit into every style of décor and taste. While we'd never advocate a life spent watching the clock, with these masterful timepieces, you may not be able to help it.
Round Time Modern Clock from MomentoItalia
Is empty wall space hampering your inner designer? Fill that void with the creative design of the Round Time Modern Wall Clock. Made up of 13 individual blocks, this modern creation gives time a whole new look. Able to be hung on any wall in small spaces or large spaces, this clock comes in three color schemes, giving you complete control. Available for $319 at Momentoitalia.com
Sterling Signature Clock in Black & Yellow
This dartboard-inspired clock adds a fun touch of whimsy to any room. Perfect for a game room, man cave, or even the kitchen, this black and yellow timepiece features a dartboard center, framed by classic silver numbers and embellished silver hands. Available for $150 at LightingNewYork.com
Bulova Bamboo Clock
This contemporary bamboo wall clock fits the bill for both fashion and function. With a design marked by clean lines and modern influences, complete with modern touches like its stylized chrome finish retainer and sleek hands, this classic timepiece will hold a place of honor in any home. Available for $58.89 at LampsPlus.com
Birch Lane Alloway Clock
Birch Lane's Alloway Clock is a perfect twist on an old classic. Framed by dark woodgrain, this timepiece features oversized numbers and stylized hands —and adds a touch of rusticity to any room. Available for $199 at BirchLane.com
Diamantini & Domeniconi Wall Clock
The days may be getting shorter, but you can still get your fill of Mother Nature. With this Diamantini & Domeniconi wall clock, you can fill your room with an agrarian, natural-style crude hardwood clock that is both lightweight and battery-operated. Available for $587.59 at Wayfair.com
Published (and copyrighted) in House & Home, Volume 15, Issue 4 (October, 2014).
For more info on House & Home magazine, click here.
To subscribe to House & Home magazine, click here.
To advertise in House & Home magazine, call 610-272-3120.
Article continues below
---
advertisement


---
Author:
Liz Hunter, Rachel Morgan, Felicia Gans, Ethan Stoetzer
Archives
---
This Old House
Moving Up
Vacation at Home
Glamorous Grilling
Increasing Curb Appeal
An Infinite Palette
Home & Garden: Garage Envy
Home & Garden
Home & Garden
Home & Garden: Backsplash
Healthy Through the Heat
Inside Out
Popular Paving
Home & Garden: Ahead of the Curve
The Outdoor Tour
More Articles