The Foundation: December, 2014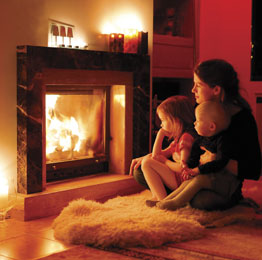 …From the pages of House & Home…
Educational Elements
What to know about ... fireplace trends
Fireplaces have long been considered the heart of the home, valued both for their beauty and function. But today, there are many more options than just the traditional brick fireplace, such as new colors and finishes that add an element of luxury to these home design staples. House & Home talked to Becky Scribner of Heat & Glo to see just what new fireplace trends are most popular, and how fireplaces are taking on a whole new role within the home.
* When it comes to the modern fireplace, less is more, Scribner says, noting that Heat & Glo has incorporated clean face fronts for many of their models, reducing the amount of visible finishing materials around the outside of the fireplace, which creates a seamless effect. Modern finishes such as stainless steel or brushed nickel fronts are also popular.
* In addition to their traditional role within family or living rooms, fireplaces are now cropping up in kitchens, bathrooms and other areas, adding a sense of sophistication, luxury and ambiance.
* Personalizing your fireplace with unique fronts, media or lighting is also popular, she notes.
Real Estate: Home values in our area
How has the area fared since the housing bubble burst?
House & Home sat down with local real estate agent Anne E. Koons of Berkshire Hathaway to get her take on how South Jersey and the surrounding area has fared since the housing bubble burst.
"It has not rebounded," Koons says of the real estate market in South Jersey. "The homes aren't moving like they were. I think it's the economy, [which is] soft in South Jersey. It has not rebounded, and state income tax and real estate taxes are a very large factor. They are the highest in the country." Koons says that while homes on the Main Line are moving more quickly than in South Jersey, homes with $1 million-plus price tags are not. The Shore is also seeing some movement, she notes. And back in South Jersey, homes in the $250,000 to $500,000 range—as long as they are in good school districts—are selling. She also names Cherry Hill, Moorestown, Voorhees, Haddonfield and Evesham as the areas selling most quickly.
Simplify
Tips & products to declutter and de-stress Finder Rack
It's inevitable: with the influx of mail, magazine and newspaper subscriptions and documents, every home seems to have a pile of papers that need organizing. Nip this issue in the bud with Suite NY's Finder Rack. Available in either glossy white, or our favorite, a mirrored stainless steel finish, this is one organizational tool you won't be able to live without— once it's installed, that is.
* Featuring a wall-mount, this horizontal rack features six pockets to keep all your documents right where you can see them. It's also available in a vertical configuration.
* Use non-permanent markers to write on the surface of each pocket, making it that much easier to be organized. ($635-$779, SuiteNY.com)
Covet
Must-have products for the home: Blue Chilled & Sparkling
Reduce your carbon footprint without giving up your affinity for sparkling mineral water with GROHE's Blue Chilled & Sparkling, a system that combines still and chilled sparkling water in a single tap. This lux system supplies filtered and chilled water in three different forms —sparkling, medium and still.
The right lever on the tap can be used to mix hot and cold tap water as normal. But turn the faucet's left handle, which features an integrated, colored LED display, to get filtered, chilled or sparking water.
This system also eliminates the need for plastic water bottles, and saves about $400 in the first year of use. How refreshing. ($3,995, Grohe.com)
Who Knew?
Unusual uses for common products: White vinegar
Not just a common ingredient used in cooking, white vinegar has many other household uses.
* Remove gum: Heat a small amount of white vinegar in the microwave, and pour over the gum to remove it from fabric or carpeting. If needed, use a toothbrush to help loosen the gum.
* Clean toilets: Pour a cup of white vinegar into the toilet bowl. Let sit overnight, and then clean with a scrub brush to freshen up a toilet.
* Clean microwave: Place a bowl of hot water and white vinegar inside, and then run on high for 3 to 5 minutes. The steam will make it easy to clean.
Kids Corner: Liven up the little spaces
Freezy Dream Ice Cream Truck Play Tent
Just because the mercury is dropping doesn't mean your child has to forgo his or her love for the ice cream truck. Just move things inside with the Land of Nod's Freezy Dream Ice Cream Truck play tent. Featuring handmade embroidered detailing on a durable cotton canvas shell—and even two awnings—this tent is sure to get their imaginations going. ($179 at LandofNod.com)
Bookmark: Add this to your bookshelf
Living in Style: Architecture + Interior Design
Everyone has their own unique style—most notably when it comes to decorating their home. Chris van Uffelen's Living in Style has nearly every aesthetic covered, featuring more than 100 projects from around the world. Various styles of homes are featured, ranging from apartments to single family homes, even villas and chalets. Readers will delight at exploring these breath¬¬taking dwellings and the identities of those who call them home. (Braun Publishing, Dec. 2014, $50.88, Amazon.com)
Home Front: Have a Seat
With the holiday season in full swing, having adequate seating isn't just ideal—it's necessary. Below are our picks for stylish, functional—even fun— chairs to fit any taste or aesthetic.
Imola Chair
If modern is more your style, the Imola Chair in caramel Oxford leather from Bo Concept is just the ticket. Featuring a modern design and a brushed steel base, this is one seating option you won't want to pass on. ($3,959 at BoConcept.com)
Orso Chair
Add an element of Italian mid-century design with the Orso chair from Dwell Studio. Featuring a high back, angular lines and button tufting, this piece boasts a timeless practicality. And when it comes to chairs, what more could you ask for? (Orso Chair in Sugarhill Birch, $1,440 at DwellStudio.com)
Lexi Vanity Chair
If you're craving something printed, the Lexi Vanity Chair upholstered in a gray trellis print cotton fabric will do the trick. Designed as either a vanity or desk chair, this piece features a dark wood finish and graceful long legs. ($1,275 and up at JessicaCharles.com)
Ankara Chair
Impress your guests with the Ankara chair in ivory from Crate & Barrel. The chair's back features carved hardwood inspired by Indonesian mosaics, and it features a solid mahogany frame and upholstered seat. ($699 at CrateandBarrel.com)
Ansel Chair
Add a bit of pizzazz to your home with the Ansel Chair from Mitchell Gold + Bob Williams. Featuring a seat and back crafted from Tibetan lamb's wool and a bronze finish, this Scandinavian-style metal Windsor chair feels both modern and vintage. Also available in matte black finish and upholstered in fabric or leather. ($1,790 at MGBWHome.com)
CH445 Chair
Suite NY's CH445 chair in light gray hails from iconic Danish designer Hans J. Wegner, and is a perfect combination of clean lines and superior function. Featuring a black leather, light gray or dark gray finish, this piece was originally designed in 1960, but just recently released—so don't let it slip away for a second time. ($5,840 and up from SuiteNY.com)
Published (and copyrighted) in House & Home, Volume 15, Issue 6 (December, 2014).
For more info on House & Home magazine, click here.
To subscribe to House & Home magazine, click here.
To advertise in House & Home magazine, call 610-272-3120.
Article continues below
---
advertisement


---
Author:
Emily Bierman, Samantha Berenberg; Edited by Liz Hunter & Rachel Morgan
Archives
---
This Old House
Moving Up
Light up the Night
Dining Alfresco
Sink or Swim
Throwing Shade
The Outdoors in Order
The Foundation
A New Spin on Swim
New and Improved
Wonderful Water
The Foundation: June, 2015
Color Me Happy
Decked Out
Ticking Clock
More Articles