Rottweiler Found Starving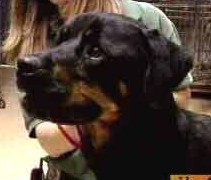 Police are investigating a shocking case of animal cruelty from South Jersey.
A dog was found abandoned and starving in a trash-filled home in Bridgeton, N.J. Now, police are searching for the owners of the dog, who are accused of leaving the Rottweiler alone to die.
Authorities believe the dog was left behind several months ago after her owners moved out. They said that it is a miracle she is still alive.
"She has absolutely no body fat," said Monica Shaud, of the Cumberland County Society for the Prevention of Cruelty to Animals.
Sasha, a 3-year-old Rottweiler, weighed about 30 pounds less than she should when she was found in an abandoned home on Dare Avenue in Bridgeton.
Sasha was identified by a rabies tag and is now being nursed back to health by the SPCA.
"Probably one of the most severe, you know, cases of emaciation we have seen in a while," Shaud said.
Police went to the house after someone who was interested in purchasing the home spotted the dog inside. Police said the house was filthy and covered with feces. Officers found the dog lying on a pile of laundry and trash in the basement. Her food and water bowls were empty and a bag of dog food was discovered outside of the reach of the animal.
Experts said it could have been up to a month since Sasha was last fed and she might have been living on garbage.
"She as was left behind left to pretty much fend for herself," Shaud said.
Authorities don't know who might have fed the dog after her owners, identified by police as Mike and Lisa Bell, moved out three to four months ago.
Investigators have learned the Mike Bell might have moved to Chicago or California.
"I don't know where he is. Last time I saw him was five months ago," said Peter Bell, Mike Bell's father.
Peter Bell said his son recently went through a divorce and he thought Mike had given the dog away.
"I'm surprised, because he was crazy about that dog," Peter Bell said.
Investigators said the dog's owners face animal cruelty violations if they are caught. They could pay a fine and possibly spend some time in jail.
"They need to be responsible for what this animal has been through," Shaud said.
The SPCA is trying to get custody of Sasha, and hope she will soon be healthy enough to be adopted.
Article continues below
---
advertisement


---
Author:
Copyright 2004 by NBC10.com. All rights reserved. This material may not be published, broadcast, rewritten or redistributed.
Archives
---
In Good Health
2017 Executives of the Year
Superior Sandwiches
Raise a Glass
Impressive New South Jersey BBall HOF class
The Promise of Public Transportation
Empowering the Next Generation
Singles: January 3
River Revitalization
Spreading Cheer
Singles: December 27
Winter Retreat
Are Holiday Parties Back in Favor?
Support System
Singles: December 20
More...