Navy Conductor to Lead Concert Band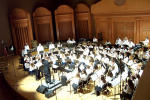 The Burlington County Musical Society, Local 336 of the American Federation of Musicians (AFM), is recruiting musicians for its newly organized concert band. Local 336 member John R. Pastin, conductor and director of bands at Rowan University and a 30-year veteran who has commanded, trained and performed with some of the United States Navy's most prestigious bands, will conduct the new band.
According to Local 336 president Robert J. Bell, the new concert band is not the first organized by the 101-year-old musicians union. "Local 336 was represented by the Marshall Band years ago," said Bell, president of the Local for 25 years and a member for 50. "When the Local was chartered on Sept. 16, 1903, it created a concert band of professionals. We need to step forward to form a 21st century concert band that will put us in the market place where we belong."
Bell explained that musicians who want to perform with the concertband have to become members of Local 336. To encourage membership, the Local, with the approval of the American Federation of Musicians, is admitting new members for $56. Annual dues are usually $112. The discount remains in effect until Sept. 30. Band members will be compensated for rehearsals and for performances, according to Bell.
The concert band will be available for engagements sponsored by both public and private entities. Several members of Local 336 will share the duties of conductor and music director of the band, but initially Lt. Cmdr. Pastin will assume that role. "We are pleased to have a band leader of Cmdr. Pastin's skill and experience to direct our concert band. His involvement in this effort is evidence of the high standards we foresee for this band," Bell said.
During his Navy career, Lt. Cmdr. Pastin made two consecutive six-month tours to South America and West Africa with the Navy Show Band, and served with the Navy Band at Pearl Harbor and in Seattle, the multinational, multiservice NATO Forces Band in Naples, the U.S. Naval Academy Band in Annapolis, the Navy Band in New Orleans and Orlando, and the premier United States Navy Concert Band and its specialty ensembles.
Lt. Cmdr. Pastin has performed at the White House for presidents Reagan, Bush and Clinton and conducted concerts at Carnegie Hall, the Kennedy Center and Constitution Hall in Washington, D.C. He has performed at the Vatican and in concert halls in Russia, Japan and China.
Bell said when rehearsals are scheduled they will be held in facilities made available by the Cherubini Academy, 35 West Broad Street, Burlington, owned by Local 336 member Rick Cherubini and his daughter Angela. Musicians who want to join Local 336 and perform with the concert band should write to the Burlington County Musical Society, Local 336 AFM, 122 Mott Avenue, Burlington, NJ 08016 or call 609-386-4223. Membership information and application forms are also available on the web at www.local336afm.com. According to Bell, membership provides musicians not only with the opportunity to be compensated for their work but also with a variety of benefits, including personal and instrument insurance, a pension plan, a subscription to International Musician, the AFM's official journal, discounts at music stores, and gigs through the AFM's Music Performance Trust Funds. "This is an opportunity for musicians to benefit personally and professionally by tapping into the extensive resources of the American Federation of Musicians," Bell said, "and, at the same time, to enjoy performing with top-flight musicians under a nationally-known conductor."
Article continues below
---
advertisement


---
Author:
Press Release
Archives
---
In Good Health
2017 Executives of the Year
Superior Sandwiches
Raise a Glass
Impressive New South Jersey BBall HOF class
The Promise of Public Transportation
Empowering the Next Generation
Singles: January 3
River Revitalization
Spreading Cheer
Singles: December 27
Winter Retreat
Are Holiday Parties Back in Favor?
Support System
Singles: December 20
More...