Help the Girl Scouts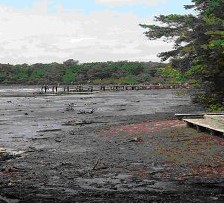 With their nature preserve and two large lakes reduced to swampy marshland by last summer's flooding, the Girl Scouts of Camden County face what was nearly unthinkable: the prospect of a camp without water, swimming or even basic water safety programs.
"It was a complete disaster," said the Council's CEO, Mary Connell of the record 13 inches of continuous rainfall in July that destroyed property in the area, breached the camp's dams and wiped out both lakes overnight. "Our lakes were beautiful and functional. Each summer we took the girls canoeing, boating, swimming, and fishing. Now we have no way to teach them even basic water safety or swimming lessons. And without those things, camp itself becomes an endangered species."
Camp Inawendiwin – an Indian word for friendship – was among those properties hardest hit in Burlington County. Damage is estimated at over a million dollars. "The figure is almost unfathomable for us," explains Connell. "We're struggling right now just to pay engineers to survey the damage. It may be years before our camp will ever be the same."
Faced with the loss of their lakes and recognizing how long it could take to repair and rebuild, the Council did some quick thinking and decided to raise funds to build an in-ground pool. "We're appealing to our members, our friends and the corporate community." said Connell. "We serve 5,000 young girls and their happiness and hopes are everyone's responsibility."
Connell quickly dispenses ideas that pools are a suburban luxury. "Each year we watch the faces of girls having their very first camp experience. Many of our troops are from the inner cities and they get no closer to recreational water than an open fire hydrant. This is no luxury for them – it's a question of having a life changing experience to broaden their horizons, fuel their hopes, and carry in their young minds throughout the year." Connell hopes to have the pool built by next spring so swimming is available for summer camp in 2005. To do this the Girl Scouts will need to raise $150,000.
The Girl Scouts of Camden County, NJ, Inc. need your help. If you are interested in finding out how you can help, contact
Lydia Cipriani
Director of Development & Public Relations
Girl Scouts of Camden County NJ, Inc.
Phone: 856-795-1560, ext. 314
Fax: 856-354-8425
Donations can be sent to
The Girl Scouts of Camden County NJ
40 Brace Road
Cherry Hill, NJ 08034
For more information about the Girl Scouts of Camden County, visit their website at www.gscamden.org.
Article continues below
---
advertisement


---
Author:
Press Release
Archives
---
In Good Health
2017 Executives of the Year
Superior Sandwiches
Raise a Glass
Impressive New South Jersey BBall HOF class
The Promise of Public Transportation
Empowering the Next Generation
Singles: January 3
River Revitalization
Spreading Cheer
Singles: December 27
Winter Retreat
Are Holiday Parties Back in Favor?
Support System
Singles: December 20
More...