Battleship Green?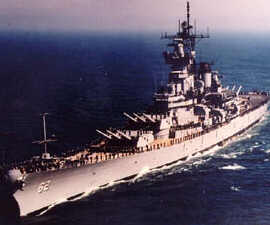 The Battleship New Jersey is offering a special $2 discount on any tour, if available*, for Eagles fans who show their colors this weekend! Just visit the Battleship – Sunday and Monday from 9 am to 3 pm – in any Eagles merchandise, such as an Eagles jacket, sweatshirt, t-shirt, beads, earrings, etc, and you'll save $2 off your tour! Show your support for the Birds, save money and tour our nation's largest and most decorated battleship this weekend!
The Battleship has also traded in her signature "battleship gray" for Eagles green! Through Super Sunday, the Battleship, which was built at the Philadelphia Navy Yard and launched on Dec. 7, 1942, will be illuminated with green lights in support of the Philadelphia Eagles.
The Battleship New Jersey Museum and Memorial offers overnight encampments for families and youth groups. Guests spending the night, get dinner and breakfast served from the chowline, a tour of the ship, a ride on the 4D Flight Simulator and the opportunity to sleep in the bunks that the crew of the USS New Jersey. Now on Fridays through February, guests can save $2 per person on an encampment.
The Battleship also offers several tours for adults and children. These include the Firepower Tour, which offers a unique and close-up look at the Battleship's weapons; Docent-assisted tours, which feature the 16-inch gun turrets, the bridge, wardroom, crew's berthing area; and Self-Guided tours, which allow guests to view the Battleship at their own pace. Ride into History on the 4D Flight Simulator Ride. Located on the Delaware River, along the Camden Waterfront across from the City of Philadelphia, tours of the Battleship take place Friday – Monday beginning at 9 am with the last tour departing at 3 pm. For more information, call 856-966-1652 or visit the Battleship at www.battleshipnewjersey.org.
Article continues below
---
advertisement


---
Author:
Press Release
Archives
---
In Good Health
2017 Executives of the Year
Superior Sandwiches
Raise a Glass
Impressive New South Jersey BBall HOF class
The Promise of Public Transportation
Empowering the Next Generation
Singles: January 3
River Revitalization
Spreading Cheer
Singles: December 27
Winter Retreat
Are Holiday Parties Back in Favor?
Support System
Singles: December 20
More...