Riverlink Ferry Operates Daily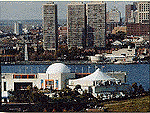 The RiverLink Ferry truly makes visiting the waterfront a breeze! On May 1, it switched over from weekend service to operate seven days a week through September. The ferry takes passengers straight from the docks to the doors of numerous attractions including Adventure Aquarium (opening May 25) and the Battleship New Jersey on the Camden Waterfront. New Jersey riders can take the ferry across to Philadelphia and be a 10-minute walk to the Liberty Bell, National Constitution Center and other attractions on the historic mile.
In 2004, the Freedom Ferry was the only vessel in operation. This year, a new vessel, the Independence, joined the Freedom Ferry as part of the RiverLink Ferry System of the Delaware River Port Authority. Both ferries provide service during major waterfront events and evening concerts.
The 2005 RiverLink Ferry System will continue to operate seven days a week through September. In October, it will resume a Friday – Sunday schedule. Service begins each morning from Camden at 9:20 a.m. and from Penn's Landing at 9:40 a.m. and continues every 40 minutes from each dock. Last runs of the day, Monday – Thursday, are 5:20 p.m. from Camden and 5:40 p.m. from Penn's Landing, while last runs Friday – Sunday are 6:00 p.m. from Camden and 6:20 p.m. from Penn's Landing. The ferry also provides extended evening service for Tweeter Center concerts shuttling passengers across the river in under 10 minutes.
The Independence and the Freedom are also available for evening charters and group rentals. The Independence carries up to 100 passengers while the larger Freedom Ferry carries 500. For catering packages, call 215-757-0800.
Visiting the waterfront is a breeze with the RiverLink Ferry System, the fun, fast and easy way to enjoy family fun on the Philadelphia and Camden waterfronts. The RiverLink has expanded its partnerships to offer riders discounted opportunities to enjoy sites on the waterfront and beyond.
* PHLASH and SPLASH – Phlash is the quick, inexpensive and easy connection for 19 key destinations, including most downtown hotels, between Penn's Landing and the Philadelphia Museum of Art. The Phlash runs daily with service every 12 minutes between 10 a.m. – 6 p.m. and costs $1 per ride, $4 for an all-day pass or $10 all day for a family of 4. Present your Phlash ticket and save $1 on the Ferry.
* SHIP'S PASS – Learn about naval history with a discounted ticket package including admission to the Independence Seaport Museum, the Battleship New Jersey and a roundtrip ride on the RiverLink Ferry. Ship's Pass tickets are $25.50 for adults, $18 for children and $20 for senior citizens.
* RIVER PASS – Discover the world above and below the sea with a discounted ticket package including admission to the Independence Seaport Museum, the new Adventure Aquarium and a roundtrip ride on the RiverLink Ferry. Opening in late May, Adventure Aquarium will feature sharks, hippopotamuses, free-flying birds and sea life from around the world. River Pass tickets are $29.95 for adults, $24.50 for children and $26.95 for senior citizens.
Board the RiverLink at Penn's Landing Philadelphia or on the Camden Waterfront. The RiverLink offers convenient connections in New Jersey to PATCO and the River LINE light rail train and in Philadelphia to Phlash, Philadelphia Trolley Works, the Big Bus Tours and commuter trains and buses operated by SEPTA and PATCO.
Round trip prices are $6 for adults, and $5 for seniors (ages 65 and over) and children (ages 3 to 12). Children under 3 ride free. Tickets are available at the ferry docks and at Independence Visitor Center located at 6th and Market streets.
For more information on the RiverLink Ferry System or to schedule a group or charter call 215-925-LINK or visit www.riverlinkferry.org.
Article continues below
---
advertisement


---
Author:
Press Release
Archives
---
In Good Health
2017 Executives of the Year
Superior Sandwiches
Raise a Glass
Impressive New South Jersey BBall HOF class
The Promise of Public Transportation
Empowering the Next Generation
Singles: January 3
River Revitalization
Spreading Cheer
Singles: December 27
Winter Retreat
Are Holiday Parties Back in Favor?
Support System
Singles: December 20
More...