Store More at the Shore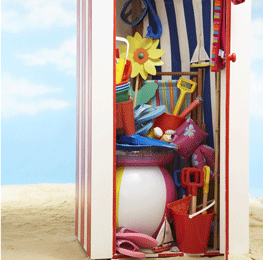 …From the pages of House & Home…
Maximizing the space in your second home will make vacations more enjoyable.
Beach chairs. Umbrellas. Boogie boards. Sports equipment. The list goes on. When it comes to owning a home at the beach, there's often a lot of stuff that comes with it.
While having all the supplies and amenities down at the Shore is part of the enjoyment, it's not so enjoyable figuring out how to store it all. Storage space is typically at a minimum in a beach home, and yet most Shore homeowners have a lot to cram in. We spoke to some local storage experts for a few tips on how to make it all fit.
Finding room
"Storage is important in a Shore home because space is at a premium," says Terry Kenny of Garage Concepts of New Jersey. "In most cases, there is no basement and the cost per square foot is so high that every bit of available space is typically used for living space."
As a result, it becomes that much more important to use the storage space you do have as efficiently as possible, he says. But this can pose challenges.
Not only are there a lot of items to store in a beach home, but it's also challenging because these items get so much use—and this means they need to be readily accessible, Kenny says. "You may have a need for boogie boards, beach chairs, and coolers in the morning and then bikes, tennis rackets, and baseball equipment in the afternoon."
For many, that means turning to the garage. But because garages are typically small at Shore homes, homeowners often find themselves using up all of the available space for storage, which means nowhere to park under cover. This is when homeowners first realize they need some help organizing, says Angel Martin, senior design consultant with Affordable Closets Plus, LLC.
"Most customers will actually say, 'I want my garage back,'" Martin says. "We start by taking an inventory of items from gardening tools, working tools and seasonal items to sporting equipment. This is often a good time for a garage sale. Most often people are willing to purge if they're gaining more valuable space."
Once the garage is purged of unnecessary items, smart storage can begin. Martin says she turns to the installation of slatwall with accessories. This gets everything up on the wall and allows room for parking a car. "Depending on the size of the garage, we also like to incorporate wall or base cabinets for enclosed storage that is neat and tucked away," Martin adds.
Amy Katzeff, designer with Closet & Storage Concepts, agrees.
Slatwall is particularly useful for Shore garages, which tend to have lower ceilings and less room to build up a lot of shelves, she says. "The slatwall is a heavy plastic sheet that has grooves cut out to hold the accompanying accessory. We carry things like golf club racks, tennis racks, bike racks, bat and ball racks, hooks for lawn and outdoor items, ladders, baskets for bottles and cans, and more. Instead of having shelving for these items, the slatwall is barely an inch thick and maximizes space.
We can put sheets together to cover an entire wall or garage or just do one area to help with those difficult-to-store items."
High and dry
The other key benefit of getting items off the floor is protection. "Hurricane Sandy showed us that Shore homes are vulnerable to flooding," Kenny says. "Storage needs to be 'high and dry' above the flood zone. Last year, much of my business involved installing high storage, at least 4 feet off the ground. We can design storage systems for every size space. Ceiling mounted systems, wall-mounted systems, and even systems for small utility rooms and closets. And many of these are constructed to withstand the harsh weather."
Katzeff says she recently worked on a client's home in Long Beach Island that was essentially destroyed by the hurricane. As it's being restored, new laws have required that living spaces are put on the second floor or higher.
"That means that the garage is more for cars and large items now," Katzeff says. "In this LBI home, I covered three walls with slatwall and made it easy for the kids to get their bikes and boogie boards themselves, because they were kept lower. Things like chairs, coolers, umbrellas and lawn stuff went higher up. The idea is to get everything off the floor. If it does flood, hopefully things are high enough that they don't get ruined."
Going out back
While the garage is a great place to store items, not all Shore homes have them. And those that do are sometimes too small to fit everything. That's where other solutions come into play. Instead of taking over precious space inside, some beach homeowners are turning to their backyard to find that additional storage space for large items like chairs, umbrellas and beach/sports gear. Of course, backyard space is often small so it's important to maximize its use. For some, that has meant the addition of a shed.
"A lot of beach communities don't have a lot of room for a traditional shed, but we have some attractive, smaller-sized sheds that are great for the Shore," says Tom Sullivan, co-owner of American Shed Builders. "These sheds can do double-duty and be converted into pool houses or even bars to be used in the summertime. Then in the off-season they can store all of the furniture or other items that are no longer getting use."
Sullivan says that the new trend is to make the shed out of the same material and to coordinate the colors from the home so that it's like a miniature version and looks attractive in the backyard. "Curb appeal is really important at the Shore," Sullivan says. "Backyards are typically small and you want anything you put into it to be attractive since it's right in your face."
It's also important that sheds are built out of high-quality material—particularly on the coast. "When you're on the coast, you're dealing with some harsh elements so it's important to have really good vinyl siding and house shingles on the shed," he says. "That way the shed is maintenance free. The last thing you want to be doing on your vacation is painting the shed."
No space wasted
No matter what route you take for storage, the key is to find a smart way to use the space you have. Even the smallest storage areas can be organized in a way that is neat and easily accessible. "Efficient storage is vital at a Shore home," sums up Kenny. "Storage space must be used at its maximum capacity to get the most possible benefit."
RESOURCES
Affordable Closets Plus, LLC
Bangor, Pa.
(610) 599-4227
AffordableClosetsPlus.com
American Shed Builders, Inc.
Old Bridge Township, N.J.
(732) 525-1175
AmericanShed.com
Closet & Storage Concepts
West Berlin, N.J.
(856) 767-5700
ClosetAndStorageConcepts.com
Garage Concepts of New Jersey
Millville, N.J.
(888) 581-8170
GarageConceptsNJ.com
Published (and copyrighted) in House & Home, Volume 15, Issue 2 (August, 2014).
For more info on House & Home magazine, click here.
To subscribe to House & Home magazine, click here.
To advertise in House & Home magazine, call 610-272-3120.
Article continues below
---
advertisement


---
Author:
Lindsey Getz
Archives
---
This Old House
Moving Up
Light up the Night
Dining Alfresco
Sink or Swim
Throwing Shade
The Outdoors in Order
The Foundation
A New Spin on Swim
New and Improved
Wonderful Water
The Foundation: June, 2015
Color Me Happy
Decked Out
Ticking Clock
More Articles