QandA NJ Answers Questions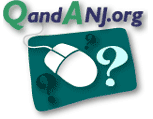 QandA NJ is an innovative, free service that information-hungry New Jerseyans have made one of the busiest in the world.
QandA NJ is a service for New Jersey residents or New Jersey-related questions. QandA NJ is designed to provide fast answers to your questions, using information found on the Internet and in proprietary databases funded by libraries. In most cases, QandA NJ Librarians will provide an answer online in 15 minutes or less! If your question involves lengthy research, they will get you started or provide a referral for you or your question.
This service is made up of a network of experienced New Jersey Librarians who will help you meet your information needs. All you need to begin is an Internet browser.
This site provides four different kinds of help:
Search help on any topic: Connect to a librarian and ask your questions.
Tutoring help: QandA NJ provides free live tutoring help for 4th-12th grades through an alliance with Tutor.com. First-time users, should visit the Live Homework Help page. Return users can request a tutor right away.
Help with schools and education related topics: Connect to the Educational Information and Resource Center.
Alert QandA NJ of an upcoming school-assignment: Teachers and library media specialists can contact the service manager directly to provide advance information about upcoming projects to ensure support when students log in for help.
By going to www.qandanj.org, users connect online, in real time, with knowledgeable librarians for help with any topic or information need. Except for a few national holidays, QandA NJ is accessible every hour, every day for Garden Staters to get reliable, speedy answers to their questions from librarians throughout the state.
Reference librarians in the Camden County Library System's Voorhees Regional and South County Regional branches serve users of QandA NJ six hours a week. Over 30 New Jersey libraries staff the service, including the Gloucester and Burlington Library Systems locally.
During its first year of service, QandA NJ fielded a full gamut of queries—from business lookups and real estate prices to term paper topic research and job-hunting help. Answers come during a while-you-wait chat with a librarian who sends information directly to the questioner's computer during the online session.
QandA NJ is the first—and currently only—statewide virtual reference service in the United States. And now it's making a good thing even better with live homework help from qualified tutors, who joined the service offerings in September 2002.
To try out any of the QandA NJ services, go to www.qandanj.org.
QandA NJ is administered by the South Jersey Regional Library Cooperative, a state tax-funded service of the New Jersey Library Network. For more information on the Cooperative, go to www.sjrlc.org. For more information on the many services offered at the Camden County Library System, go to www.camden.lib.nj.us.
Article continues below
---
advertisement


---
Author:
Editor/Press Release
Archives
---
In Good Health
2017 Executives of the Year
Superior Sandwiches
Raise a Glass
Impressive New South Jersey BBall HOF class
The Promise of Public Transportation
Empowering the Next Generation
Singles: January 3
River Revitalization
Spreading Cheer
Singles: December 27
Winter Retreat
Are Holiday Parties Back in Favor?
Support System
Singles: December 20
More...