Lamberti`s Cucina
Although all of South Jersey`s popular Lamberti`s restaurants are related, each one is unique in its own way. Of course, they all feature top quality Italian food, but each has an individual flair and flavor.
Cherry Hill`s Lamberti`s Cucina has the feel of a stylish European bistro, with pretty aqua and green colors, neon accents and oversized mirrors and windows. It was the perfect setting for a leisurely lunch with my father on a recent Friday afternoon. From the minute we walked through the door and until we left, we were treated like family by the friendly staff. We sat down and were given a basket of warm breads and crispy, aromatic bruschetta to munch on as we perused the menu. Aside from appetizers, salads, chicken, veal, seafood and Italian dishes, we saw gourmet pizzas, paninis, sandwiches and daily specials listed. Dad is somewhat health-conscious, and our server assured us that everything is made to order and dietary restrictions are gladly accommodated.
All entrees are served with salad, a chilled plate of mixed greens, vegetables and a homemade Balsamic vinaigrette. For his entree, Dad chose the fresh fish of the day, Salmon Griglia ($7.95), a boneless, skinless, grilled filet served atop mesclun greens and accompanied by more fresh vegetables. The fish was lightly crisped on the outside and melt-in-your-mouth tender on the inside.
I chose Pollo Paesano ($7.95), a double portion of boneless chicken covered in hot peppers, tomatoes, mushrooms and garlic served over pasta. The colorful mix of spicy flavors was pleasing to my palate, but it was so much that I had to have some of it wrapped up to take home!
Full as I was, though, I managed room for dessert Ð Caramel Pecan Cheesecake ($3.95). This rich, creamy confection tastes even better than it sounds. Once Dad saw the tray of tasty treats, even he couldnÕt resist the temptation. He decided to indulge in homemade Chocolate Mousse ($3.95).
Lamberti`s Cucina also offers a takeout pizza special for $5.99 on Mondays and Tuesdays. The lunch buffet (weekdays from noon until 2 p.m.) features fresh pastas, pizzas, salads, entrees and baked goods.
Lamberti`s Cucina also has catering for on- and off-site parties and events. Call for details.
Lamberti`s Cucina 1491 Brace Road Cherry Hill 354-1157
Hours Mon. - Thurs.: 11 a.m. to 10 p.m. Fri. and Sat.: 11 a.m. to 11 p.m. Sunday: 1 to 9:30 p.m. Lunch Buffet Mon. - Fri.: noon to 2 p.m.
Article continues below
---
advertisement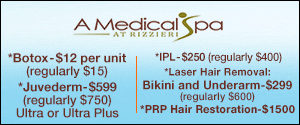 ---
Author:
Ellen Kershner
Archives
---
Caffe Aldo Lamberti
Copperfield`s
Athens Cafe
The Tabernacle Inn.
Cafe Notte
Kum Fong Restaurant
Mulberry Street Bistro
Victory Lane Sports Bar & Grill
Wellington`s at the Regency Palace
Weber`s Cafeteria
Villari`s Milmarian
Villa Barone
Tulipano Nero
The Trestle Inn
Tavern on the Square
More Articles