Cafe Notte
Located on the third floor of a charming Victorian building in the heart of Merchantville, Tavern on the Square`s Cafe Notte sets the standard for romantic ambiance and superb Italian cuisine. My husband Gary and I had dinner there on a Saturday night recently, and as we stepped onto the mosaic-tiled front porch, we knew it would be a special evening.
The building is owned and operated by the Kelly family. The first floor`s Tavern Room restaurant serves lunch and dinner, and features outstanding seafood and steaks plus many other entrees. There are also elegant banquet facilities for up to 130 on the second floor. We took the elevator up to Cafe Notte and were seated at a cozy, candlelit table. The classic, sophisticated interior features a wide trellis on the ceiling and hanging plants dotted with pinpoint lights.
As we sampled the fresh bread basket, our waiter Tom suggested we try the Balsamic Shrimp appetizer ($7.95). The jumbo shrimps were arranged around spinach and peppers and bathed in a tangy vinegar and honey sauce. Entrees include soup or salad and a vegetable, plus a bowl of pasta. We opted for Caesar Salads ($5.95 each), expertly tossed tableside by our friendly chef, Theresa.
For his entree, Gary chose Zuppa Di Pesce ($17.95), a bounty of fresh shrimp, clams, mussels, calamari, scallops and crabmeat in a buttery white sauce. My Veal Sinatra ($17.95) was prepared tableside, with delicate veal in an exquisite brandy sauce, covered with crabmeat and artfully served with asparagus.
The pastry cart was quite beautiful to behold, and we chose to share a moist, delicious slice of Carrot Cake ($4.50). Small cordials of Anisette or Amaretto are also included with dinner.
One of the best parts about Cafe Notte is that you get dinner plus a `show.` In addition to many of the dishes being prepared tableside, there is low-key live music and dancing. And the staff was so personable, fun-loving and accommodating that we felt as though we were at a party. It makes for a truly memorable evening, but the reasonable prices make it affordable enough to enjoy often.
I have also heard from several sources that Tavern on the Square has an extraordinary Sunday brunch from 11 a.m. to 2 p.m., with lox, bagels, shrimp, gourmet lunch selections and more. Don`t miss it we certainly won`t!
Tavern on the Square: Open 7 Days
Cafe Notte: Open Wednesday to Saturday
2 South Centre Street Merchantville
856-665-4099
Article continues below
---
advertisement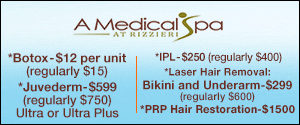 ---
Author:
Ellen Kershner
Archives
---
Caffe Aldo Lamberti
Copperfield`s
Athens Cafe
The Tabernacle Inn.
Kum Fong Restaurant
Lamberti`s Cucina
Mulberry Street Bistro
Victory Lane Sports Bar & Grill
Wellington`s at the Regency Palace
Weber`s Cafeteria
Villari`s Milmarian
Villa Barone
Tulipano Nero
The Trestle Inn
Tavern on the Square
More Articles