Mulberry Street Bistro
When my husband Gary and I went to Mulberry Street Bistro for dinner recently and saw their eye-catching purple sign outside, we weren`t sure what to expect. After dining there, though, we discovered it to be a charming study of contrasts.
We were pleasantly surprised as we walked into the lovely dining room, which features romantic lighting, clever artwork and pinpoint lights adorning the greenery. They also have a separate bar area.
As we perused the wine list, our server Shannon brought us complimentary cucumbers, tomatoes and coleslaw plus Italian bread. The varied menu is mostly Italian, but also offers Continental fare, a childrenÕs menu, burgers and sandwiches.
We started with an appetizer special, Clams Casino ($8.95). It was an ample portion, topped with crispy bacon strips. Given a choice of soup or salad, we chose the latter, and would highly recommend the Honey Poppy Seed house dressing, which is creamy, tangy and slightly sweet.
Gary wanted Veal Marsala ($14.95), and though it wasnÕt on the menu, Shannon said that they would gladly accommodate. It was fork-tender and the sauce was bursting with fresh mushrooms and garlic.
My Shrimp and Asparagus Aurora ($16.95), another special, was shrimp, crabmeat, asparagus tips, sun-dried tomatoes and olives tossed into a rich, creamy tomato sauce with pasta.
A friend had told me that the desserts here were outstanding. She was right. We tried Strawberries Sauvignon ($6.95) and Key Lime Torte ($3.95). Both were unusual, extremely delicious presentations.
I must also mention the wonderful service at Mulberry Street Ñ continuing on the theme of contrasts, the servers were somewhat formally dressed and nary a course was finished before the plate was swept away. However, they were so friendly and accommodating that we felt very relaxed and comfortable.
Mulberry St. has nightly specials, featuring an incredible Seafood Buffet for $12.95 adults and $6.95 for kids under 10 on Fridays plus Early Bird Specials every day for $6.95 until 6 p.m. Catering and on-site parties for up to 80 people are available. Also stop by and enjoy their outdoor dining deck.
Mulberry Street Bistro 8th Ave. & Black Horse Pike Runnemede 856-939-4100
Hours Sunday - Thursday: noon to midnight Friday & Saturday: noon to 1 a.m.
Article continues below
---
advertisement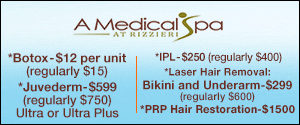 ---
Author:
Ellen Kershner
Archives
---
Caffe Aldo Lamberti
Copperfield`s
Athens Cafe
The Tabernacle Inn.
Cafe Notte
Kum Fong Restaurant
Lamberti`s Cucina
Victory Lane Sports Bar & Grill
Wellington`s at the Regency Palace
Weber`s Cafeteria
Villari`s Milmarian
Villa Barone
Tulipano Nero
The Trestle Inn
Tavern on the Square
More Articles