Care to Reminisce?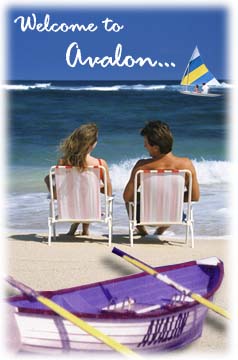 So much has changed in Avalon, NJ in recent years. Avalon Supply, Hand's Department Store (formerly Sullivan's), the town's first bank and most recently Donnelly's Deli – all long-time familiar names and recognizable locations to generations of Avalon visitors -- closed their doors in 2005. The landscape of the island is changing. And while the growth and development is exciting to watch and experience, it's also nice to be able to go back in time – through our memories, and reminisce about the times when Avalon was just a small, sleepy seaside resort.
Now there's a place especially for anyone who remembers standing in line to see the Fabulous Greaseband in the Bongo Room of the old Avalon Hotel; having breakfast at the back counter of Sullivan's Department Store or dancing in the Marine Ballroom, playing Pokerino or just simply seeing a movie on the Avalon Pier -- to relive those magical moments of summer days gone by – it's www.avalonspast.com.
"Over the past several years I've run into people all over the country, from all walks of life, from 18 to 80 who all share one thing in common. They all have incredibly fond memories of their vacation or a visit to Avalon," said Dave Coskey, creator of the site. "I've been amazed by the little things that people remember from so very long ago. I thought that it would be fun to have a place where you could go back and reminisce, look through old photos and share your own memories. I also see the site as a place to help preserve some of those memories before they disappear forever. The web gives us the opportunity to do things and reach people today that would have seemed impossible just a decade ago."
That's what www.avalonspast.com is designed to do. The home page opens with a dramatic photo of a building that dominated Avalon's landscape for more than 80 years. Do you remember the Avalon Hotel? If the answer is yes, then you're probably in the right place. Starting with the home page you can click through old photos that span more than 100 years; compare your memories with others; check up on current events – what's happening in Avalon today, which will be tomorrow's past; shop the online store which features books and gifts pertaining to Avalon's past – and most importantly, share your memories. To capture the spirit of the holiday season there's a special first person look back at Christmas at the Avalon School in the 1920's that will be featured on the site through December.
"There's so much about Avalon, about Avalon's past, that's preserved only in our minds," added Coskey, who's published two books about Avalon. "This website will allow anyone – regardless of where they live – to visit an Avalon that's only existed in their memories, with the click of a mouse. And hopefully, everyone who visits the site will contribute memories of their own – and give us all a rare and unique look back at an Avalon from a different time."
The site, which was created by NORtHEND CONSULtING, is now live and updated every week with new memories and photos submitted by visitors. The URL for the website is www.avalonspast.com and everyone is encouraged to submit memories and photos to info@avalonspast.com or by writing to PO Box 104, Avalon, NJ 08202.
Article continues below
---
advertisement


---
Author:
Press Release
Archives
---
In Good Health
2017 Executives of the Year
Superior Sandwiches
Raise a Glass
Impressive New South Jersey BBall HOF class
The Promise of Public Transportation
Empowering the Next Generation
Singles: January 3
River Revitalization
Spreading Cheer
Singles: December 27
Winter Retreat
Are Holiday Parties Back in Favor?
Support System
Singles: December 20
More...