Cape May's Washington Street Mall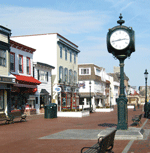 Cape May's Washington Street Mall is a picturesque walk down brick paved streets among small, unique shops. Everywhere you look, there is something to catch your eye.
No matter what season it is, the Washington Street Mall is always boasting something to do, and something to look at. In the winter, your walk is framed with garlands, wreathed gas lights, lighted trees, and candle lit windows. In the summer, there are bands, musicians, and enticing ice cream parlors set amongst the charming Victorian-style buildings and shops.
The decision to preserve Cape May's downtown area was made in 1970, when the city closed Washington Street from Ocean to Perry Streets. They filled in the streets, and planted flowers, trees and shrubbery. They put benches all over the new walking mall. A few years later, in 1976, the Secretary of the Interior designated the entire city of Cape May as a National Historic Landmark District. This title ensured the continuing preservation of the Washington Street Mall's charm.
This downtown area has had its trials; it has been threatened over the years with two fires that wiped out almost a complete block, but the city quickly adjusted to the lost and rebuilt with more attractive shops. All of the shops are privately or family owned, several of which have been owned by several generations of the same family.
At the beginning of the Washington Street Mall, on Ocean Street, is located the Mid-Atlantic Center for the Arts (MAC) booth. Here visitors can glean information about beach passes, tours, events, festivals and everything Cape May.
The MAC also operates two historic sites: the Emlen Physick Estate, which is Cape May's Victorian house museum; and the Cape May lighthouse and its museum of maritime history.
The Washington Street Mall has a good variety of stores, and many of them carry one-of-a-kind, unique gifts that are hard to find anywhere else. There is a store for the needs or wants of almost every kind of person.
There are art galleries—Cape May Art Gallery, Cape May on Canvas, Gallery D'May, Splash, Washington Street Gallery and Winterwood Gift & Christmas Gallery--that carry assortments of paintings, including local beach and sea views.
There are ice cream and candy shops like Dellas 5 & 10, Kohr Brothers, Ben & Jerry's, Cape May Popcorn & Pizza, Uncle Charley's Ice Cream, Fralinger's Salt Water Taffy, Morrow's Nut House, and The Original Fudge Kitchen. The Original Fudge Kitchen is one of the Bogle family's six locations that they run along the shore.
You have a variety of restaurants, including BYOBs, counter service, snacks and everything in between, including Café Buongiorno, Stewart's Root Beer, The Ugly Mug, Jackson Mountain Café, A Ca Mia, Cucina Rosa, Louisa's Café, Tisha's Fine Dining, Cape May Fish Market, Pano, and The Pilot House, which has a reputation "as one of the best casual restaurants in Cape May NJ."
There are many small gift shops with unique gifts, like Love the Cook, Kaleidoscope, Whale's Tale, Good Scents, Happy Baby, Import Bazaar, Swede Things in America, Great White Shark, Dellas 5 and 10 and many others. There is also a variety of clothing, book, jewelry, toy and other assorted gift shops along the walk.
Standing one block from the Perry Street end of the Washington Street Mall is Congress Hall; a magnificently restored hotel with tall pillars stretching around its extensive Victorian era frame that occupies an entire beachfront block. In 1995 major efforts were made to restore this hotel building to its former glory- it had previously played host to many well-known people including Ulysses S. Grant, Franklin Pierce, and James Buchanan. President Benjamin Harrison had made Congress Hall his "summer White House" and conducted the affairs of state from the hotel.
This seaside resort offers more than 100 guestrooms, retail shops including a Day Spa, a full-service restaurant and lounge, a night club, fitness center, and an exquisite Grand Ballroom. It also hosts tons of events, retreats, fundraisers and auctions.
2015 Events
October: Handmade Scarecrow Display along the Washington Street Mall. On display the month of October
November: Gingerbread House Exhibit & Contest Beginning Friday, November 27th thru Sunday, January 3rd
November: SMALL Business Saturday: AMEX SHOP SMALL Saturday, November 28th, All Day
December: Annual Hospitality. Thursday, Dec. 10th, & Friday, Dec. 11th, 7-9pm
The Washington Street Mall is located between Ocean and Perry Streets in Cape May.
For more information, see their website at washingtonstreetmall.com or contact The Washington Street Mall Association
401 Washington Street
Cape May, NJ 08204
609-884-0555
609-884-5858
4/25/15
Photo by Sharon Westerland.
© SouthJersey.com 2015. All rights reserved. This article or parts thereof may not be reprinted or reproduced by any other party without the express written consent of SouthJersey.com. For more information, please call 856-797-9910.
For an extensive list of South Jersey Attractions, with links to websites and other information, check out our South Jersey Attractions page.
Article continues below
---
advertisement


---
Author:
R. Cohen, J. Westerland
Archives
---
Advertise with SouthJersey.com
Shawnee High School
Acting Natural
Middle Township High School
Audubon High School
Cumberland Regional High School
African American Heritage Museum
Apple Pie Hill
Attractions: N. Pemberton RR Station
Johnson's Corner Farm
Lumberton's Air Victory Museum
Lucy the Margate Elephant
Tuckerton Seaport & Baymen's Museum
Emlen Physick Estate
Maple Shade High School
More...