Haddon Heights High School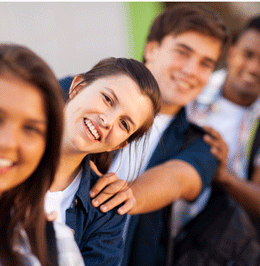 Haddon Heights High School, home of the Garnets, serves over 800 students of Haddon Heights, Barrington and Lawnside, NJ and is part of a NJ High Performing School District. New for 2015, students from Merchantville will now also attend Haddon Heights High School. According to the school's website, they offer many learning opportunities for students, including advanced placement courses, a vigorous honors program, a broad technology program and many sports and extracurricular activities.
The 2015-2016 school year kicks off on Tuesday, September 8 at 8am. Students will have early dismissal on Tuesday and Wednesday of that week with a full day of school starting Thursday, September 10.
Academic Departments at the school include Business, English/Foreign Language, Math, Science, Special Education, Social Studies, Technology/Consumer Science, Fine and Performing Arts, and Physical Education/Health.
In addition to five guidance counselors, Haddon Heights High School also offers a Student Assistance Counselor (SAC). The Student Services Department provides Scholarship Bulletins and assists all students in making their post-graduate decisions. Each year, between 85 and 95 percent of graduates pursue post-secondary education.
Students in Haddon Heights' Legal Environments class will be able to pay a small fee to receive college credits from Camden County College, provided they pass the course.
Last school year, voters in Haddon Heights approved an $189,000 proposal to rehire an art teacher for the junior-senior high school and restart some extracurricular clubs cut from the budget two years ago. According to the Courier-Post article, activities that will be brought back include The Varsity Club, Art Club, Scribe Newspaper, and Junior High School Coed Track. The referendum also included a technology infrastructure improvement for the school that includes replacing more than 30 computers and laptops.
Extracurriculars at the school include Academic Challenge, Art Club, Bowling Club, Concert Choir, French Club, Jazz Band, Multi-Cultural Student Union, National Honor Society, Peer Mediation, Spanish Club, Student Council, Volleyball Club and many others.
The award-winning Haddon Heights High School Marching Band is gearing up for their 2015 season, which kicks off with a competition at Burlington City High School on September 19. They will also compete at Williamstown, Monroe Township and Robbinsville High Schools as well as in the USBands New Jersey State Championship, USBands Preview of Champions: Washington Township High School and USBands Open Class National Championships. The band's colors are maroon and gold and their director is Rob Renninger.
Haddon Heights High School also offers many athletic choices for students, including football, field hockey, soccer, cross country, tennis, cheerleading, basketball, wrestling, swimming, softball, baseball, track & field, and golf as part of the Patriot Division.
The Haddon Heights football team's schedule for the 2015 season includes games against Gloucester City, Gateway Regional, Audubon, West Deptford, Lindenwold, Paulsboro, Overbrook, Haddon Township, Woodbury and Haddonfield. Players on the team include Nick Smith, Tariq Miller, Matt Diorio, Cameron Robertson, Jeremy Daubert, Roman Massi, Chris Chester, Billy Ray, Chris Burch, Shane Sankey, Scott Harding, Jake Barr, Austin Getley, Brad Kent, Fred Shinault, Hunter Taylor, Jacquan Taylor, Ryan Slater, and Tanner Wade, according to MaxPreps.
Are you a Haddon Heights High School alum? Check out their website (http://www.haddonheightsalumni.com/) and catch up with your former classmates.
Save the date if you have a child at HHHS! Back to school night will be held on Thursday, October 1 at 7pm.
Haddon Heights Junior/Senior High School is located at 301 Second Avenue in Haddon Heights. For more information about the school, call 856-547-1920 or visit hhsd.k12.nj.us/hhhs.
© SouthJersey.com 2015. All rights reserved. This article or parts thereof may not be reprinted or reproduced by any other party without the express written consent of SouthJersey.com. For more information, please call 856-797-9910.
For more information about what's going on in our local schools and what today's students are up to, visit our South Jersey Schools page.
Article continues below
---
advertisement


---
Author:
Meghan Shott
Archives
---
Advertise with SouthJersey.com
Shawnee High School
Acting Natural
Middle Township High School
Audubon High School
Cumberland Regional High School
African American Heritage Museum
Apple Pie Hill
Attractions: N. Pemberton RR Station
Johnson's Corner Farm
Lumberton's Air Victory Museum
Lucy the Margate Elephant
Tuckerton Seaport & Baymen's Museum
Emlen Physick Estate
Cape May's Washington Street Mall
More...